Since COVID-19 sent office workers home three years ago—disrupting our assumptions about office design and employee experience—many workers quickly adopted new routines and practices into their workdays. Daily walks with the dog, joining Zoom meetings from a quiet, comfortable spot, and having more time at home rather than in transit are making workers hesitant to go back to the office full-time, despite employers asking them to do so.
And, while the home office may not provide the in-person social interaction for workers, it does provide other perks such as quiet and the ability to focus on deep, concentrated work. As a result, offices sit idle and business leaders, as well as building owners, are diligently trying to entice workers back in a way that makes sense to everyone.
Office space needs to look and feel remarkably different than it did over the last 10 years, configured in a way that is welcoming while mimicking the environment workers have come to depend on at home and elsewhere. This includes a new sensitivity to our sensory experience and noise levels. Here, we break down what that means.
The Office as a Destination and Experience
Before the pandemic, it was all about work-life balance; now, from the employee's perspective, it's about work-life blend and setting boundaries. Viewed through that lens, a mandate that workers return to the office is seen as negative because they want to decide for themselves where they work. Still, businesses want their employees in the office, so rather than force them back, organizations can present the office in a new way, reframing it as a destination rather than an obligation.
At home, workers have more space to do their work, and they are accustomed to more elbow room. Businesses are responding by designing collaboration rooms, cafes and lounge areas so employees have the option to move around, enjoy more space and not feel tethered to their desks.
Creating spaces that prioritize the comfort for deep concentration and quiet solitude that workers found at home while fostering opportunities for collaboration will make the office a place workers want to go rather than a place they have to go.
Open Offices Tend to be Noisier
Prior to the pandemic, businesses had pivoted away from open office floor plans due to the higher level of noise and distractions. In fact, a 2019 workplace survey conducted by Gensler found worker perception of the office as a place for getting work done was at an all-time low because of the noise and inability to focus.
Dissatisfaction with open offices, or what Gensler refers to "densification," can be traced back at least a decade to 2013 and grew each year since. This is not surprising given that in 2010, U.S. office density averaged over 240 square feet per person, but then dropped to an average of 214 square feet and sometimes much lower right before Covid hit (Axios).
Peace and Quiet is In
After spending so much time at home, it's no surprise people have become extra sensitive to noise and consider it a big factor in returning to the office.
A December workplace survey found that 83% of employees said they would return to the office at least one more day per month if they could find the quiet they crave at the office. The low din of conversations combined with the ubiquitous Zoom and Teams calls throughout the day make workplaces very noisy, which is something that needs addressing.
One way is to configure office spaces with small, private rooms for focused work and Zoom meetings, but another is looking at ways to improve acoustics and dampen noise. Pink noise is described as an artificial jumble of frequencies that can be adjusted to the number of people in a space to mask what you can hear; this sound-masking solution has become increasingly popular among businesses.
"We're finding that what clients are placing a large emphasis on, as more people trickle back to working in the office, is privacy – specifically speech privacy. Sound masking is now becoming a much larger part of the interiors conversation because it allows clients to provide their employees with increased speech privacy within a more open setting."

Brad Nemetz, Architectural Consultant, Atmosphere
Another alternative is dividing space into smaller 'sections', but not necessarily with a cube farm. Meta, which owns Facebook, Instagram and WhatsApp, initially trialed traditional cubicles but quickly realized cube walls did not absorb enough noise. So the company commissioned its own solution made of a soft material that absorbs sound instead of reflecting and echoing it around the office. What they call "The Cube" is a curvy-walled, movable cubicle that features three soft screens made of felt-like recycled PET plastic that envelop a worker's desk. According to the company, The Cube has reduced sound levels by 20 decibels.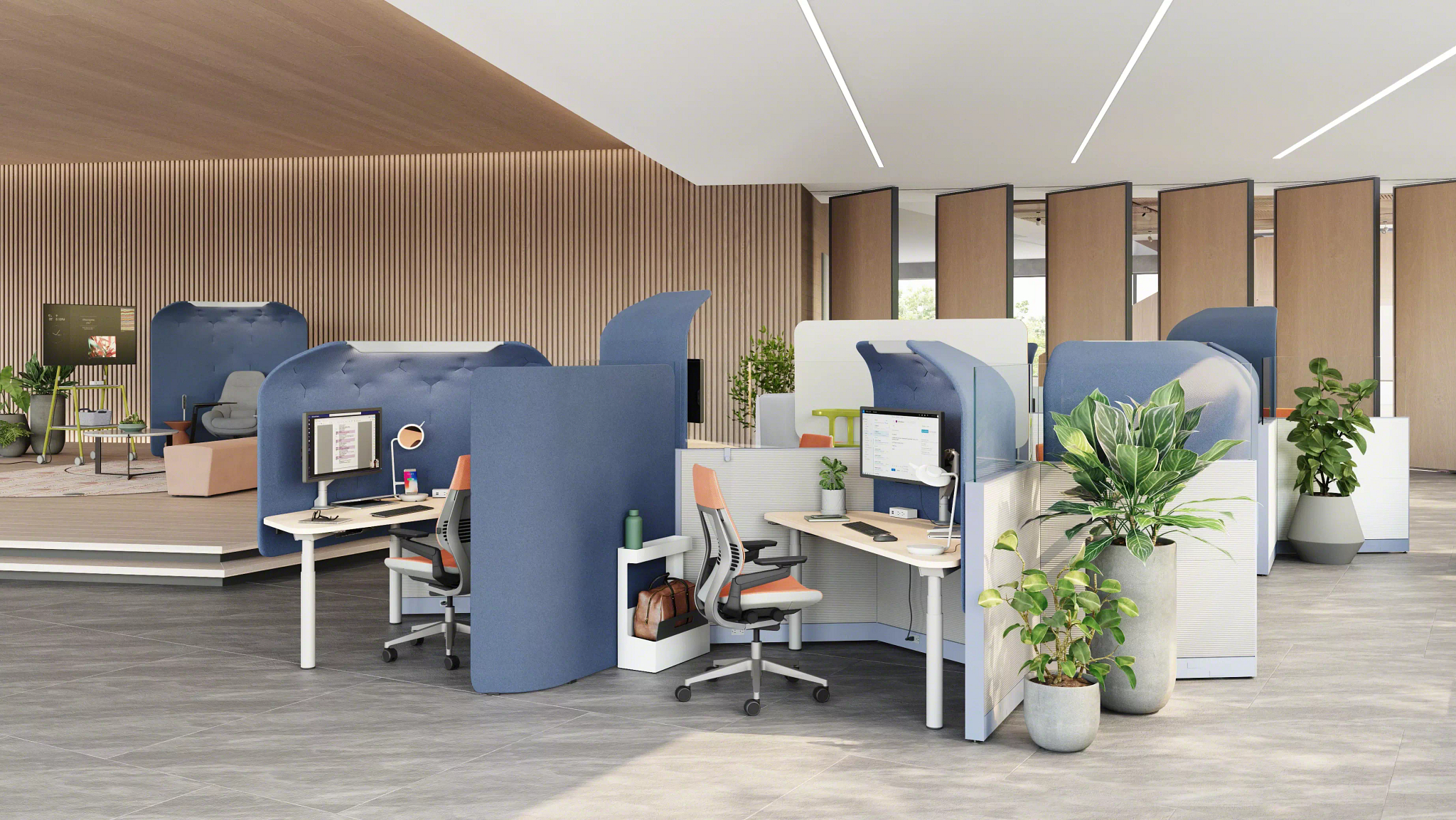 Whether it's offering peace and quiet, private rooms, or collaboration hubs, businesses have the unique opportunity to create a space that is aligned with what their employees need and expect. Those that take advantage of this opportunity will be better equipped to bring workers back with as little friction as possible.
If you're looking for frictionless office designs that will excite, inspire and motivate your employees, please contact us.